TRW Ultra and
TRW Pro
As the True Original, TRW Aftermarket is the real expert in its field. TRW is one of the largest global brake pad manufacturers in the independent aftermarket and follows the pillars of ZF Aftermarket's standards of safety, engineering excellence, innovation, partnership, and perfectly tailored product lines.

Choose what's perfectly tailored for you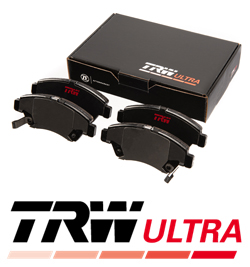 The TRW Ultra brake pad line offers nearly 800 SKUs providing over 98% coverage for a wide range of vehicles up to 15 years old. It is priced against premium market product. TRW Ultra also features CITEC coating to provide additional stopping performance during the break-in period, and shims that are designed per the OE configuration. A siliramic lubrication packet is included in the box to further aid in installation.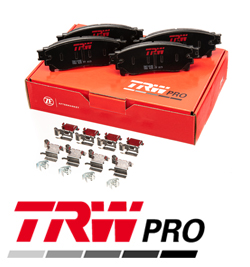 The TRW Pro line offers more than 1,000 SKUs that provide over 98% coverage for a wide range of vehicles up to 35 years old. It is priced 30% below the TRW Ultra. TRW Pro also features nearly 40 SKUs in both a ceramic, and semi-metallic formulation that allows consumers to tailor their selection to best fit their vehicle's needs.



Click on the picture to view it in high quality resolution.

Copper-free testing results
With the new copper-free formulation, the TRW Friction lines has outperformed itself in categories of comfort and lifespan. Reduced noise and dust have brought TRW ahead of competitors, putting the product lines ahead of the California copper-free legislation deadline of 2025, and reaching above the standard of OE. We are currently the only brand with all lines being entirely copper-free.
Click here to view the PDF format of the test results.

TRW Corner Module


TRW, a brand of ZF Aftermarket, is a leader in automotive technology and known for its high-quality OE standards and safety components. TRW Corner Module components are designed to work together perfectly in a vehicle, offering a high level of quality, innovation and safety