Use our unparalleled knowledge, technical expertise and experience in vehicle safety systems to serve your customers with the best possible brake shoe solutions. We make sure that every braking component - big or small - is guaranteed to perform exceptionally, long term. We make and supply a huge number of black painted brake shoes, fitting kits and accessories. In fact, we have the biggest range coverage in the whole of Europe, so you can serve the maximum number of vehicles. And you can rest assured that the TRW black painted brake shoes you fit will work effectively, quietly and above all, safely.
With TRW Aftermarket black painted Brake Shoes, we can guarantee:
Environmentally friendly chrome 6-free production, using no heavy metals, asbestos
The very best coverage in Europe, with over 420 brake shoe references covering multiple times the amount of vehicle applications.
A comprehensive range of over 300 Shoe Fitting Kits so you can fit it right every time
A perfect match for our Black Painted Disc range
All linings approved to TRW Original Equipment specification.
Making the brake shoes fit, precisely

Supplying high quality brake shoes for drum brakes is one thing. Making sure that professionals like you or your team can fit them effortlessly and quickly is another. To make sure that fitting replacements is always easy and accurate, we also offer a range of more than 300 Shoe Fitting Kits that all include clear, comprehensive instructions.
TRW Aftermarket Shoe Fitting Kits reduce costs and save time. They do their job without fail, delivering the correct spring tension, quiet braking and balanced brake force. Naturally, they include everything you need to perform a safe and professional job.
Black Painted Brake Shoes

TRW brake shoes are now coated in a special black paint to match our Black Painted Brake Disc range and manufactured with the same exceptional quality you expect from TRW.
You'll know the box contains our new black painted brake shoes whenever you see the clearly visible "Painted black" label.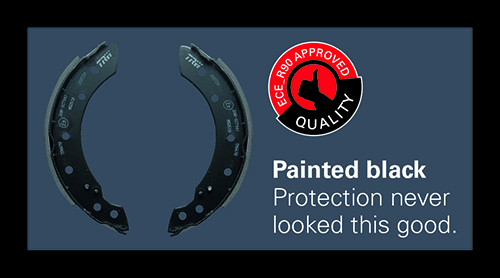 A few tips on brake shoes

We know that you know your job and do it well, but it's always good to share the fundamentals of best practice. Here are a few fitting tips when you're working with brake shoes.
Size matters. Before fitting new TRW Aftermarket Brake Shoes, always carefully measure the maximum diameter of the brake drum you're working on. This will be marked on the brake drum itself. Never use drums if they are close to, or over, the maximum diameter.
Under 2mm is too little. For safety and balance, if you find that any one brake shoe is worn below the 2mm mark then it's definitely time to fit a complete new axle set.
Backplate inspection. You will find that some drum brake systems feature an inspection hole in the backplate. This is useful, because it enables you to see whether the brake linings are worn without wasting time removing the brake drum.
Safety in numbers

The sheer number of TRW Aftermarket brake shoes and brake shoe fitting kits sold across Europe proves that we offer great coverage and quality. We currently have the best vehicle parc coverage in Europe, and can offer you more than 420 references of brake shoes and approximately 300 references for Brake Shoe Fitting Kits.
A part fitted to many Citroen, Peugeot, Renault and Dacia models has sold in excess of 14 million units, whilst a brake shoe fitting kit used on many Volkswagen Group cars has reached nearly 10.5 million sales so far.
Put your skills in safe hands

Work with TRW and you're not only investing in great components. As the leading business in the global aftermarket, we have the depth of resources, knowledge and expertise to create products of premium quality and precision that will support you into the future.
Nothing matters more than safety in the automotive world, so to explore our brake shoe range and beyond, visit our online parts catalogue.